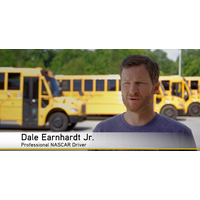 Thomas Built Buses Pays Tribute to School Bus Drivers
HIGH POINT, N.C. – August 3, 2017 – Thomas Built Buses, a leading school bus manufacturer, recently launched a video tribute to school bus drivers. In the video, Thomas Built highlights many of the things that make bus drivers integral to education, from driving kids to and from school safely and providing equal access to education to becoming mentors for the students they transport.
"As an industry, we don't thank our school bus drivers enough," said Caley Edgerly, president and CEO of Thomas Built Buses. "School bus drivers play a pivotal role in providing equal access to education and safe transportation for children. But more than that, they connect with and build relationships with the children they transport. A child's school day often begins and ends with their bus driver."
The video features another type of driver, NASCAR superstar Dale Earnhardt Jr. as he personally thanks school bus drivers for their contribution, from one driver to another.
"Bus drivers are critical. For a lot of kids, riding a school bus is the only way that they can get to school," said Earnhardt Jr. "Every day there are thousands and thousands of bus drivers on the roads who are very serious about having a positive impact on kids' lives. I am proud to partner with Thomas Built Buses to thank school bus drivers for their role in getting kids to school safely and everything that they do."
"School bus drivers do more than just drive," said Edgerly. "They influence the children they come in contact with every day and set the tone for the entire school day. We hope this tribute video will show the level of appreciation we, at Thomas Built and as an industry, have for all school bus drivers." You can view the video here.
---
About Thomas Built Buses Founded in 1916, Thomas Built Buses is a leading manufacturer of school buses in North America. Since the first Thomas Built bus rolled off the assembly line, the company has been committed to delivering the smartest and most innovative buses in North America. Learn more at https://thomasbuiltbuses.com or at http://www.facebook.com/thomasbuiltbuses.
Thomas Built Buses, Inc., headquartered in High Point, N.C., is a subsidiary of Daimler Trucks North America LLC, the largest heavy-duty truck manufacturer in North America and a leading manufacturer of class 4-8 vehicles. Daimler Trucks North America produces and markets commercial vehicles under the Freightliner, Western Star and Thomas Built Buses nameplates. Daimler Trucks North America is a Daimler company.
---